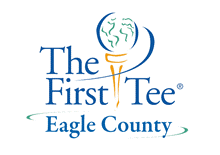 The First Tee of Eagle County continues to be an inexpensive and enjoyable opportunity for your child to have fun, while also learning the inherent life lessons of the game: Honesty, Respect, Integrity, Confidence, Judgment, Courtesy, Perseverance, Responsibility, and Sportsmanship. Thank you to all of those who have supported us throughout the last seven years!
2018 FIRST TEE AT GYPSUM CREEK OVERVIEW
AGES 4-14 (will be broken up into age groups and ability)
8:45 am - 12:15 pm (Three separate group sessions; 60 minutes each within this timeframe depending on your assigned age group time)
SESSION 1: Tuesdays & Wednesdays - June 5, 6 June 12, 13 June 19
SESSION 2: Tuesdays & Wednesdays - June 26, 27 July 10, 11 July 18
REGISTRATION FEE – $80/session - Scholarships Available - SIGN UP NOW!
Call Tom or Blake to SIGN UP! 970-524-6200 x1; Even better, stop by and see us!